SARAH MARSHALL - Bootilicious Guitarist Extraordinaire
Look at what your love poured out. There's one thing I know:
I'm free. The purpose of the blood of Christ is freedom.
Taxi
Click here to listen
.
© Copyright, Sarah Marshall, 2003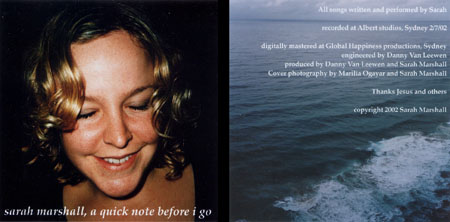 Hail me a taxi,
With surround sound
and a disconnnected man,
I'm wearing from want,
and sleepy from waiting.
Tears they tease at me,
but stay shadowed by hope and joy.
I could laugh and I could cry,
Just get me in a cosy car,
and drive,
Somewhere, anywhere,
Anywhere but here...
This album has sold out in all British colonies. It is now a recognised collector's item.
If you are lucky, you might find a copy on Ebay, however you can expect to bid in the thousands.
If you are desperate for it, email me and I'll make you a copy, just don't tell Sarah.